This is the first time that the metro is being built with a large drill
So far, all metros in Stockholm have been built by blasting out the tunnels and sealing them by injecting cement into drilled holes in the rock. However, for the independent line between Fridhemsplan and Älvsjö, the approach is to use a tunnel boring machine instead.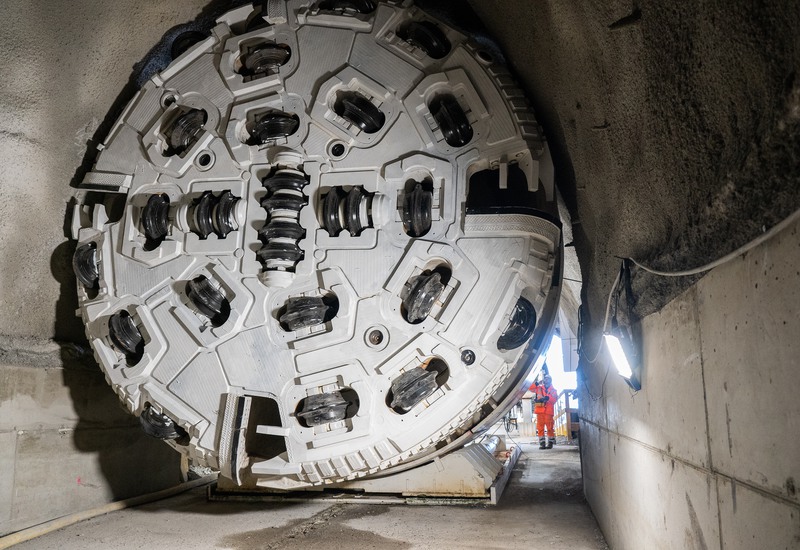 "We see several advantages. For instance, a tunnel boring machine has a lesser impact on the surrounding, with respect to how far the vibrations diffuse and the amount of water that leaks in during the construction. This is particularly good as we have some really tricky passages to get through. We know that there is a zone with weak rock where we will work in below Mälaren and Årstafältet consists of clay," says Johan Brantmark, Manager for the Älvsjö metro.
The technique is as follows: a large drill is penetrated through the rock while building a watertight concrete lining. The tunnel is bored from the southern end of the new line to the northern end. In this way the work tunnels are not required either at all the new stations, as is the case for the routes currently under construction.
"Both the methods have their advantages and disadvantages but our compiled assessment today is that the tunnel boring machine is the best for the route between Älvsjö and Fridhemsplan. There is less groundwater leakage than with the drill-and-blast method, and the risk implied in the time-consuming grouting and reinforcement work is reduced," says Johan Brantmark.
However, even if there is an emphasis on tunnel boring machines, it does not mean that the extension between Fridhemsplan and Älvsjö will be completely blast-free.
"No, the stations will be blasted out using the same technology as the other new metro lines," says Johan Brantmark.
Each new metro route has its own conditions and various construction methods were investigated even for the routes currently under construction.
"We looked at the possibility of using the tunnel boring machine even during the planning phase of the current project This was before we had received the terms from the environmental judgements with stringent requirements for water leakage. We have this as well as other experience with respect to the tunnel boring machine technique which we will now be using for the new line," says Stefan Persson, Deputy Head of Administration Manager for the new metro.
At present, all planning is based on the fact that the metro to Älvsjö will be built using the tunnel boring machine.
"During the year, we will continue to work on the planning. For example, we will continue to examine the terrain and the bedrock, assimilate the technical and financial analyses, continue the work on project design and the work on permits and production planning," says Johan Brantmark.
The final decision on the tunneling method will be made by the end of the year.